Chiropractic Care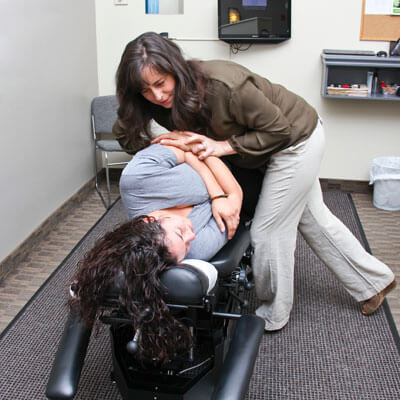 At Whitemud Crossing Chiropractors, we focus on the whole person. It's our goal to restore the function and alignment of your spine. With a healthy spine, your nervous system can operate at its highest potential. In turn, your body has its full capacity for healing, which will improve your quality of life. It's our mission to provide the care and information you require to live at your maximum potential.
Techniques to Suit You
At our modern facility, our team of chiropractors is knowledgeable in an array of different techniques. We want to assist you in getting out of pain or staying in your peak physical condition. The methods we may use for your adjustments include
Diversified
Activator®
Tonal Integrative Correction (TIC)
Torque Release Technique™ (TRT)
Webster Technique
Thompson
Collaborating for Your Benefit
We have six chiropractors on staff. When we think that you could benefit from what another practitioner offers, we'll refer you to them and discuss your case so that they know how best to help you. We'll introduce you to them and make sure you understand why we believe they're well-suited to your case.
Prioritizing Your Health and Safety
Your health and safety are our priority. There's a wealth of misinformation about chiropractic. That's why we emphasize educating each of our patients on what we do. If you are in pain, you may feel unsure about getting adjusted. You might have heard things that make you feel apprehensive about chiropractic. Please rest assured that our nervous patients get their first adjustment, then say, "That's it? That wasn't scary at all!" We love to make people feel comfortable and at ease.
Book Your Visit Today
You may be curious about what we do. Perhaps you have a specific issue that you'd like to know if chiropractic can help. Please contact our team today to set up your consultation with a member of our team. We're open late and have appointments available on Saturdays.
CONTACT US »
---
Chiropractic Care Edmonton | (780) 430-7549